Where to begin? There's so much wrong with this story that it's hard to choose a starting point where to expose everything wrong with the modern left.
First of all, it's funny how progressives endlessly wax hysterical about the need for restrictive gun control laws yet find no issue with a known left-wing terrorist group arming themselves to protect a kid-friendly 'drag' event in Texas.
Secondly, why are leftists so eager to expose children to sexually-explicit content? Regardless if an event is gay-themed or not, children are not capable of fully grasping the magnitude of sex and all it entails. Shoving gayness down their throats just adds another layer of depravity prevalent on the left today.
Masked Antifa members armed with AR-15 rifles and handguns showed up to guard what was billed as a "kid-friendly" drag show at a North Texas distillery. Reports indicate the show contained partial nudity and sexualized minors.
Armed #Antifa showed up in Roanoke, TX to protect the "kid friendly" drag show at this bar. Armed #Antifa escorted attendees to the vehicles. I counted about 9 AR-15s. @CityofRoanokeTX @SaraGonzalesTX @TaylerUSA @WatchChad @theblaze @BlazeTV pic.twitter.com/S1rOM1dlmo

— Kris Cruz 🫡 (@realKrisCruz) August 28, 2022
Conservative journalists were on the scene posting pictures of armed Antifa members guarding the kid-friendly drag event. The images show a shocking scene of wimpy, impish limp noodles struggling to carry the weight of a military-grade firearm.
Sara & I will talk tomorrow about how #Antifa was placed very strategic during the "kid friendly" drag show in @CityofRoanokeTX

Yes, #Antifa was armed like snipers on the 3rd floor of the parking garage. @TaylerUSA will confirm the sighting. @BlazeTV @theblaze @WatchChad pic.twitter.com/SVyY86d4i8

— Kris Cruz 🫡 (@realKrisCruz) August 29, 2022
The Anderson Distillery and Grill in Roanoke, Texas hosted a "Barrel Babes Drag Brunch" on Sunday afternoon, according to a post on their Facebook account.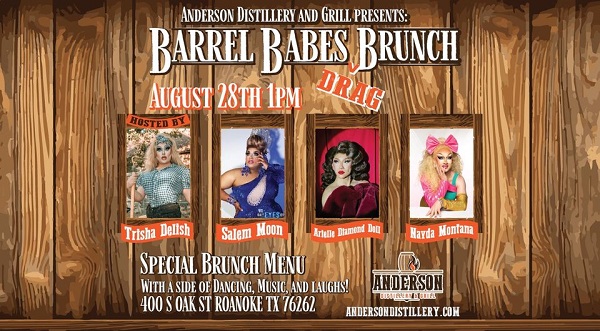 Anderson Distillery and Grill — via Facebook
Video footage from the drag brunch shows dozens of children outside the venue with their parents.
Another Child Drag Show was hosted in Texas, this time in @CityofRoanokeTX—

Over 20 children were in attendance and multiple teachers.

Here's a recap of the event:

[WARNING] Vulgarity, Sexualization of Minors, and Partial Nudity. pic.twitter.com/BObkygDxrX

— Tayler Hansen (@TaylerUSA) August 29, 2022
Independent journalist Andy Ngo tweeted a report stating the Armed Antifa members are part of the local chapter of the John Brown Gun Club. He identified the group as an Antifa militia linked to domestic terrorism.
Today a group of armed #Antifa members came to Roanoke, TX to support a drag queen event. The local chapter of the John Brown Gun Club, an #Antifa militia linked to domestic terrorism, led the call to direct action. It is headed by Christopher Guillott & Garrett Lee. pic.twitter.com/TC1uAG7Hl8

— Andy Ngô 🏳️‍🌈 (@MrAndyNgo) August 28, 2022
The gun club mobilized in response to a call from Protect Texas Kids to hold a "pop-up protest" outside the distillery, the Post Millennial reported.
Same mother seen outside the venue with her son, hanging all over him and trying to kiss him while he pulls away.

Sickening. pic.twitter.com/YHq0UeUdIs

— Sara Gonzales (@SaraGonzalesTX) August 29, 2022
One woman driving away from the event began arguing with the protesters. She bared her breasts while driving away from the "family-friendly" event, one journalist tweeted.
Once again, the question that should be posed here is why do these brainwashed parents find it necessary to expose their children to entertainment meant for adults. Why is it so crucial for children to become accustomed to men portraying a cartoonish version of women while they dance scantily clad on stage in rooms full of drunk adults?
It's f****** creepy!
Author: Robert Bogart
---
---
Most Popular
These content links are provided by Content.ad. Both Content.ad and the web site upon which the links are displayed may receive compensation when readers click on these links. Some of the content you are redirected to may be sponsored content. View our privacy policy here.
To learn how you can use Content.ad to drive visitors to your content or add this service to your site, please contact us at [email protected].
Family-Friendly Content
Website owners select the type of content that appears in our units. However, if you would like to ensure that Content.ad always displays family-friendly content on this device, regardless of what site you are on, check the option below. Learn More